Workers' Compensation claims become difficult when questions arise over a claimant's medical history, co-morbidities, pre-existing injuries, prior treatments and/or alternate providers. Claims where medical credibility is in question often require a comprehensive Medical Canvass. Veritas provides this service using an effective logical process and technically savvy designated staff.
Medical Canvassing can provide actionable evidence to support a denial of causation, apportionment of permanency, pertinent background for an IME, and to narrow down an appropriately-related treatment plan.
Our standard process targets the 50 mile radius surrounding a claimant address, but can be widened based on the nature of the geography; rural versus metropolitan. Pricing begins at $425.00 per assignment and can change based on the number of alternative or prior addresses found and radius of search required. Veritas understands that fast turn-around is a key to this service, as state timelines can limit the ability to dispute related issues. Veritas' process provides quick action and results.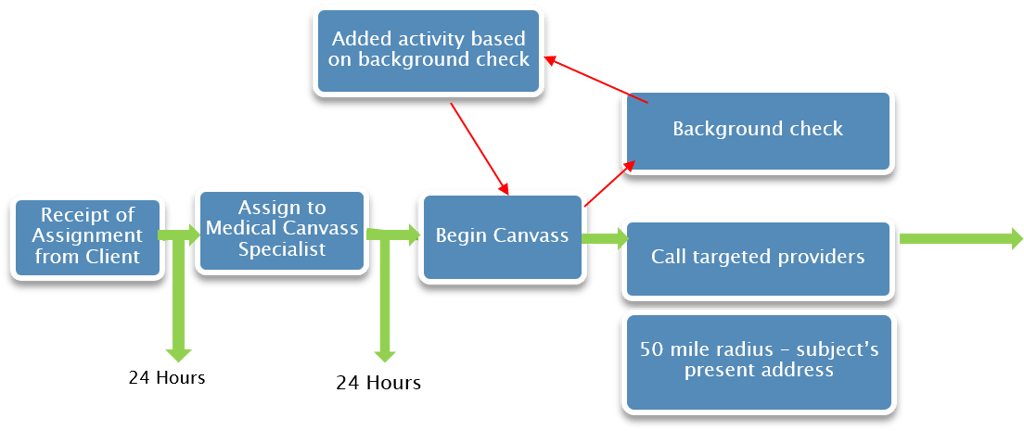 To view an example of how we recently used medical canvassing to investigate a knee injury suffered by an employee of a small transit company, read our blog "3 Techniques for Successful Medical Canvassing."
What sets Veritas' approach apart from the common medical canvass is our instant background check. This is truly the "Plus" in Medical Canvass Plus. With this step, we may identify valuable information to expand avenues of likely treatment research and enhance our canvass with added investigative angles.
For example, we may discover other addresses, other non-indexed accidents or incidents that add validity to an enhanced search. Within 24-48 hours a typical Medical Canvass Plus assignment might identify and recommend added geographic areas to search.
Click on the button below to access our online form to submit your request for a medical canvass plus assignment.